Seconds Do Count!
Don't Become Lost in an Emergency!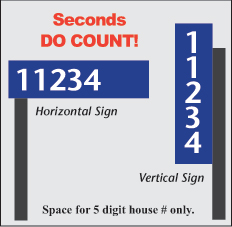 Every second counts in an emergency, and valuable time can be lost if your address number is not immediately clear to responders. SE Thurston Firefighters Association offers high visibility signs in an effort to solve the problem.
The cities of Yelm, Rainier, and surrounding unincorporated are some of the fastest growing cities in the state. More housing developments and new addresses can lead to greater confusion for residents and emergency personnel alike. Though such housing developments dot the landscape, rural areas remain, with long driveway entrances leading to homes that can be difficult to locate from the road.
Our high visibility signs display house numbers with three-inch reflective numbers and are visible up to 300 feet away, day or night. The signs, attached to a metal post, are meant to be installed near driveways to allow emergency responders to quickly identify a home's address.
Medical emergencies make up the majority of SE Thurston Fire's calls. Cardiac arrest, diabetic shock and accident injuries are the most common, each with its own set of complications that increase as each minute goes by while the victim waits for aid.
Signs may be ordered from the SE Thurston Firefighter's Association for $17 (plus $4 for the metal post). SE Thurston Fire offers free installation within their service area for those who purchase the sign and the metal post together.
To order a sign, download this PDF form and mail it to our office.
Make checks payable & mail to:
S.E. Thurston Firefighter Association
High Visibility Address Signs
PO Box 777
Yelm, WA 98597
For additional details or questions, please call us at 360-458-2799. In Case of an Emergency call 911.
Sold by S.E. Thurston Fire Association.
Click on the image below to download the order form.