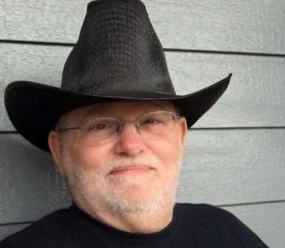 On February 21, 2017, Randy Schleis of Rainier, Washington, had unexpected complications to an outpatient heart procedure. He spent more than two weeks in critical care at St. Peter Hospital in Olympia, Washington, and fought valiantly to spend time with family and friends before his death on March 10, 2017.
Randall Leroy Schleis was born in Sioux City, Iowa on February 28, 1953, to parents Walter Leroy Schleis and Iola Hazel Heiden. He grew up in Struble, Iowa, with parents, Wally and Berniece, brothers, Brian and Mike, and sister, Shelly. He graduated from high school at Gehlen Catholic School in Le Mars, Iowa in 1971. Randy joined the United States Air Force in April of 1972 and served 20 years, with one tour of duty in Vietnam and active duty during Desert Shield, Desert Storm and Desert Calm. He was a recruiter for the Air Force for five years and a security supervisor for 15 years, to include serving as Robins Air Force Base SWAT team leader. Awards during his service to his country include various Meritorious Service, Achievement, Good Conduct, National Defense, Longevity and Small Arms Expert recognitions, in addition to "Best Medium-Sized Security Police Unit in Air Force Logistics Command."
Randy was a living example of heroism as he protected and served his country, community and family.
He served his community as a volunteer fire fighter, a reserve officer with the City of Olympia Police Department, and a Chief-of-Police (1993-1999) and Mayor of City of Rainier (2010-2017). Randy loved the Nisqually Valley and its residents, and worked to advocate for his community. He was actively involved in Rainier schools and Rainier Community Cares, a youth and young adult outreach program. He was instrumental in building Rainier Veteran's Park, involved in the LEOFF Retirement Board and Thurston County Emergency Management, and FEMA planning to include working with the 62nd Medical Brigade and recently worked to recognize Rainier as the second Purple Heart City in Washington.
Randy worked at All Star/Mullinax Ford as an IT Manager for more than 10 years, retiring in 2015. He served his church in helping with youth Bible quizzing and volunteering in sound/media. Many young adults share how Randy mentored them in their youth when they were struggling to make good choices in their lives. When his health was more robust, he loved playing Santa for community events that involved kiddos. He enjoyed reading, softball, fishing, camping, church, country and bluegrass music, and was a brilliant storyteller. Friends and family know that his three grandchildren thought he hung the moon.
Survivors include his best friend and wife, Kathie Darlene Schleis of Rainier, Washington; daughters, Linda Schleis Addy (Cameron) of Portland, Oregon, and Jennifer Schleis Corn (Bryan) of Newberg, Oregon; grandchildren, Ella Claire, Wilson Harris and Vera Gail; brother, Mike Schleis (Heidi) of Le Mars, Iowa; sister, Shelly Schleis Schmitz of Struble, Iowa; in-laws, Lynda Hollinger, Myrna Beckwith (Frank), Sandy Ketchum (Verle), and Candy (Doug) Morgan; and many loved nieces and nephews.
He was preceded in death by his mother, Iola (1953); brother, Brian (1989); father-in-law, Darrell (1985); father, Walter (1997); mother, Berniece (2014); and mother-in-law, Kate (2014).
Randy was honorable, kind, clumsy, funny, wise and an earnest example of how we can all make a difference if we live life with a serving heart. While his physical heart struggled with his disease, his giving heart beats in his family, friends and community of Thurston County.