Safety helmets aren't just for kids taking a spin on their first bike. Children and adults should wear the appropriate helmet when participating in any recreational activity where head injuries are a risk. And when it comes to helmets, fit is the key. A loose helmet can't protect the head as well as one that is properly fitted.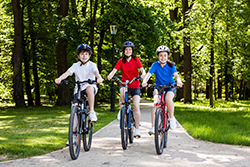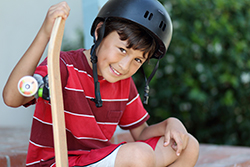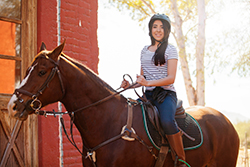 Examples of situations where you should wear a helmet include, but are not limited:
Riding ATVs
Baseball/Softball
Bicycling
Skateboarding
Football
Horseback Riding
In-line Skating
Rock Climbing
Skiing
Snowboarding
Other Facts
According to the Bicycle Helmet Safety Institute, a bicycle helmet reduces the risk of serious head and brain injury by 85 %.
More than 70,000 persons need hospital emergency room treatment each year for injuries related to skateboarding according to the CPSC.
Head injuries cause three-quarters of about 900 bicycle deaths each year, according to the Bicycle Helmet Safety Institute, a helmet advocacy program of the Washington, D.C.-area Bicyclist Association.
Another 82,000 people suffer brain injuries each year while playing sports such as baseball and football, etc., according to the Brain Injury Association in Alexandria, Virginia.
Neurosurgeons and doctors across the U.S. agree that wearing helmets can save lives.
Always replace your helmet after a crash. Damage may not be visible to the eye, but the inner lining may have been destroyed.
Cracks or dents mean you need a new helmet.
Replace your helmet every five years. You may not only need a new size, but the material naturally weakens over time.
Visit this link to the National Highway Traffic Safety Administration for more information about helmet safety.