In 2013, and for the fourth consecutive year, S.E. Thurston Fire Authority (SETFA) would see an additional $200,000 loss in operating revenue bringing the total loss in revenue over the past 48 months to more than $700,000. However there is positive news, as assessed values have stabilized for 2014 and we are projecting a positive change in operating revenue for 2014.
Your Fire Authority continues to operate with the assistance of SAFER grant funding which provides wages and benefit funding to four uniformed or essential positions. These SAFER grant funds expire in August of 2014, the Fire Authority in conjunction with the firefighters union is working to extend these benefits.
I am also pleased and proud that all employees including the firefighters union IAFF Local 3628 and Office and Professional Employees Union Local 23 have conceded, contractually required, base wage and cost of living increases for the third consecutive year.
Financial Summary
2013 brought another physically conservative year, as assessed values dropped an additional 8%. Given 80% of the Fire Authorities budget is derived from property taxes any negative change in assessed value results in a direct loss of revenue for the Fire Authority. See figure 1. Below
Total Revenue 2013
Revenue 2013

Cash Carry Forward

$151,429.00

Taxes

$2,436,200.00

DNR Mob, Medic One, Schools / Other

$133,422.00

Space facility rent




$13,682.00

End-of-year medic one funds

$35,000.00

SAFER Grant
$271,136.00
Total
$3,040,869.00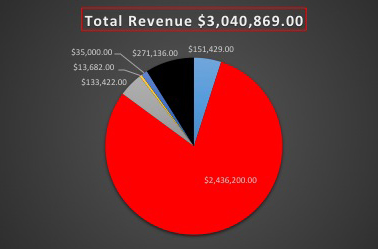 Total Expenditures 2013
Expenditures 2013

Firefighter EMT wages

$1,550,411.00

Firefighter EMT benefits
$496,405.00

Administrative Wages

$326,837.00

Administrative Benefits

$109,287.00

Vehicle Maintenance / Fuel

$63,350.00

Training

$9,500.00

All other consumables

$439,052.00

Total
$2,994,842.00